The twilight of darkness begins with the dawn of love
| | | |
| --- | --- | --- |
| | Welcome to the Dark Nick and Nat Homepage | |
| | |
| --- | --- |
| | The Dark Nick & Nat Faction, DarkNN, is a group of Forever Knight fans that have come together to explore the dark sides of Nick and Nat, and the effects of their dark sides and desires on their relationship. |

Archives updated June 29th!
DarkNN List Fun
Includes DarkMark<tm> cards and limericks from the list!


Sign DarkNN Guestbook
View DarkNN Guestbook

Have visited the Darkside of NN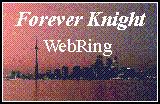 This Forever Knight WebRing site is owned by DarkNN/BranwenWolf.

Click for the [ Next Page | Skip It | Next 5
| Previous Page | Skip Previous | Random Site]

Want to join the ring? Click here for info.



Site designed by Sitemistress BranwenWolf

the sitemistress